The St. John's Lutheran Church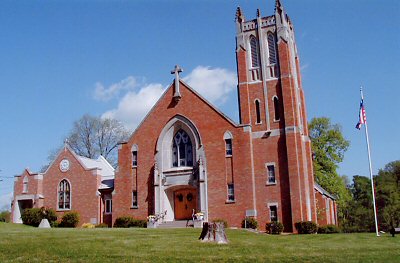 The seeds of St. John's Evangelical Lutheran Church were sown in the early part of 1892 when Rev. Hennings, a neigboring pastor, came into Boone Township and organized those of the Lutheran faith. Being attracted by the fertile soil, many German Lutheran families had migrated from Harbison Township into Boone Township in the early part of the 19th century. Means of transportation were poor and few roads existed. Traveling to their home church, St. Paul's Lutheran Church in Haysville, became nearly impossible. Many felt they could better continue the faith they had been taught if they had a church closer to home.
Initially, services were held in the Miley School House, one mile west of the present location. On August 6, 1893, twenty members met under the direction of Rev. Hennings to call their first pastor. Rev. H.G. Koenig answered the call and served the new congregation until 1897.
Arrangements were made during Rev. Koenig's tenure as pastor to build the congregations's first church on the banks of Birch Creek and the well-known Buffalo Trail. Mrs. Barbara Hoffman donated the land for the new church. The church was dedicated on Dec. 10, 1893. A cemetery was established shortly after and upgraded in 2002.
In 1902, a schoolhouse was built on the church property. When children reached age 12 or 13, they were taken out of public school and enrolled for two years in this parochial school and taught by the pastor. They were taught the five chief parts of Luther's Small Catechism, Bible history and the German alphabet. Also, worship services were conducted exclusively in German until 1918, when agitation against the German language became intense due to the involvement of the United States in Worl War I. Services were then held in both German and English until 1941 when the congregation voted to conduct services entirely in English.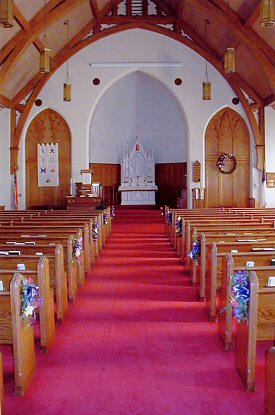 After construction of the original church, the congregation began to grow in membership and in efforts to better serve the Lord. Members attended worship and Sunday school, participated in the church choir, Luther League, now known as Lutheran Youth Organization, Ladies Aid and St. John's Women Missionary Society, today known as Women of the Evangelical Lutheran Church in America (WELCA).
Soon the congregation began to outgrow its facilities. A building fund was established in 1928. Ground was broken for the present church in July of 1947 and the new church was dedicated on Dec. 12, 1948.
Progress and prosperity continued at St. John's Lutheran Church. In 1982, an educational unit was dedicated to provide a better learning environment for the children of the congregation. The church observed its 100th anniversary in 1992. Most recently, on April 13, 1996, an accessibility addition was dedicated to provide opportunity for people of all capabilities to worship and participate in church activities.
St. John's is a member of the Indiana-Kentucky Synod and the Evangelical Lutheran Church in America. To date, 15 pastors have served at St. John's Evangelical Lutheran Church. Membership totals approximately 450. Activities abound for people of all ages. Information about the congregation, worship, and activities can be obtained at www.stjlc.org. The bell that rang in 1893 calling people to worship still rings today. Join us Sundays at 9am for Contemporary worship, followed by Suncay School and Adult fellowship at 10am..
St. John's mailing address is 6483W. 580N, Otwell, IN 47564. Directions to St. John's: Turn North off of Highway 56 onto C.R. 550. Proceed approximately 3 miles and turn West (left) onto C.R. 580. The church is approximately one mile ahead on the right.
The above infomation was compiled using the Church Manual of St. John's Evangelical Lutheran Church, 1949, the Seventy-Fifth Annivesary of St. John's Lutheran Church Booklet, 1967, the Jasper Area History Book, 1989 and the 100th Anniversary of St. John's Evangelical Lutheran Church, 1992. Please visit St. John's website, www.stjlc.org , from time to time to keep updated on the happenigs at St. John's.